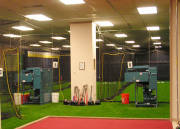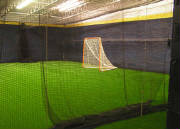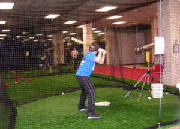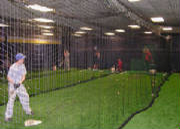 CURRENT FACILITY OVERVIEW
Some of the features of our "current"  facility are:
Our netting systems and flexible floor space will allow us to reconfigure most areas to suite your individual, group or team requirements. Whether you are looking to just have fun, practice on your own, or want a more structured work-out, at a truly affordable price, this is the place for you.
Indoor mini-field – The "Field turf"playing area measures approximately 60' x 50 x 18'ceiling. Can be divided into 3 separate hitting bays.
Pitching Machines – 2 Iron Mike machines
Backyard Batter Pro Soft-toss machines – 2 (1 baseball & 1 softball)
Golf – mini-driving range (mini-field area)
Lounge – comfortable area for relaxing with wi-fi (bring your laptop).
Pro Shops – sporting goods for individuals & teams
Professional Instruction available for individuals, groups, and teams.
We carry hot & cold beverages and light snacks.
Specialized Services
team practice rates
meeting area available
free space to hold your organizational "sign-ups"
"Hit-A-Thons" -unique FUNdraisers to earn money for your team while having batting practice. Avg profit $650 – $2000 avg