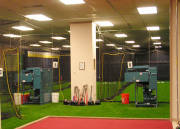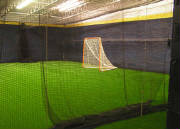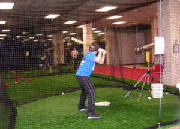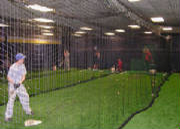 CURRENT FACILITY OVERVIEW
Some of the features of our "current"  facility are:
Our netting systems and flexible floor space will allow us to reconfigure most areas to suite your individual, group or team requirements. Whether you are looking to just have fun, practice on your own, or want a more structured work-out, at a truly affordable price, this is the place for you.
Two indoor mini-fields – The "Field turf"playing areas measuring approximately 60' x 50 each. Can be divided into 4 separate hitting bays.
Pitching Machines – 2 baseball & 1 wheeled softball machine (no dimpled balls, which void bat warranties) – we use only real baseball & softball)
Golf – mini-driving range
Lounge – comfortable area for relaxing with wi-fi (bring your laptop).
Pro Shops – sporting goods for individuals & teams
Professional Instruction available for individuals, groups, and teams.
We carry hot & cold beverages and light snacks, including Mini-Melts ice cream, nachos!
Specialized Services
team practice rates
birthday or team parties
meeting/conference area available
free space to hold your organizational "sign-ups"
"Hit-A-Thons" -unique FUNdraisers to earn money for your team while having batting practice. Avg profit $650 – $2000 avg

UPDATE:

 

 We have received Final Approval for our Site Plan and construction to start in April 2019. (the wet fall weather caused a delay)
NEW COMMUNITY SPORTS COMPLEX 

We are moving forward and planning to open a brand new, state-of-the-art, community sports complex next year. We will break ground April 2019. Phase 1 of the new complex will include 6 the outdoor athletic fields for baseball and softball (fastpitch & slowpitch).
Phase 2 will include:
Indoor soccer/lacrosse field
Expanded indoor baseball/softball facility with indoor games and league space
3-4 soccer/lacrosse/rugby outdoor fields
Food court
Expanded Pro Shop / Retail Store
Assembly Facility for the Backyard Batter Pro soft-toss machine
All activity spaces, including indoor and outdoor fields, will be available to entire community and groups to lease for their own purposes, tournaments and activities.
Targeted Sports for youth and adults: baseball, fastpitch, slowpitch, soccer, lacrosse, rugby, cricket, bubbleball, flag football and many more.
Phase 2 will include basketball, inline hockey, volleyball and more.
We have begun our Corporate Marketing Program with advertising and sponsorship opportunities, including naming rights for facility and fields! If you are interested in a corporate sponsorship, advertising opportunities or in-kind services,  please call Donna Ayers at 607-973-2226 or 607-346-0113. Be one of the first business to "name a field" or become a VIP.