Birthdays &  Team Parties
Relax and let us do all the work! Instead of a birthday party – host your end of season team party with us!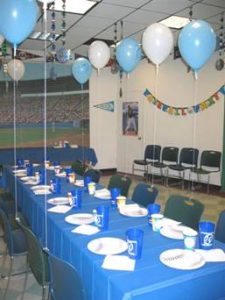 Our birthday parties are a hit with both boys and girls of all ages. Parents love them too! A unique and special way to treat your child like an All-Star and give him or her a day that will provide special memories for a lifetime.
We customize the decorations with your child's favorite team colors, sport or other theme. We will plan the activities to suite your child's specific interest: Nerf, dodgeball, kickball, soccer, batting cages, flag football, and more.
We do not supply Nerf guns–please have kids bring their own and we will set up targets and obstacles for a fun nerf gun war 🙂
We decorate, clean up, and provide staff members to interact and engage the kids for a completely non-stressful event for parents. So sit down on our comfy couch, read a book  or simply watch the kids have fun-let us do all the work. All you do is bring the cake.
NEW: if you don't want to mess with a cake, you can add Mini Melts Ice Cream for only $3 ea or Nachos for $2.25 ea.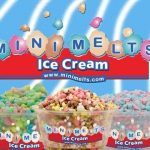 Don't forget…the perfect birthday present for your sports fan can be purchased in our Pro Shops. (if not in stock, we'll order it for you)
GRAND SLAM BIRTHDAY $250 – Let Us Do All The Work!
up to 11 children * additional children are $10/each 
includes the following:
2 hrs of facility time (incl party room- 3/4 time spent on activities)
you pick the activities either before or day of party. (Nerf Wars we need to know before)
1 sheet pizza, drinks, paper products, decorations
1-2 staff members will be there to run entire party for you
we even clean up the mess when party is over
(note-for more than 12 kids, we will have a 2nd pizza and drinks)
Just bring the cake and we'll take care of everything else!
ADDITIONAL OPTION: Instead of a cake, let us supply Mini Melts Ice Cream Cups (similar to Dipping Dots) for only $3 ea. We have 6 flavors in stock!
warning: kids will be sweaty, tired and ready for a nap when they leave!
DEPOSIT REQUIRED FOR ALL PARTIES
A $100 non-refundable deposit due at time of reservation, balance can be paid on date of party. No refunds or credits can be issued. If you cancel the party within 2 weeks of your party date, you will be responsible for the entire cost as we have probably already turned down another party or group.
NOTE: When sending out invitations, please make sure you use our mailing address, as some search engines till have old "Pre 911" addresses.  Mailing Address:  11417 L.P.G.A. Drive, Corning NY 14830 (Between the Corning Country Club & Crystal Lanes Bowling Center and next door to Gatehouse Motel.
NOTICE:  4/2019 – IT HAS BEEN BROUGHT TO OUR ATTENTION THAT THE FORMS HAVE NOT SUBMITTING FROM THE WEBSITE! PLEASE TEXT 607-346-0113.
or complete the form on this page for more information or to reserve your party. (if you do not hear from us within 24 hrs, please call 607-973-2226. We've experienced problems with this form)