Birthdays & Parties
Relax and let us do all the work! Instead of a birthday party – host your end of season team party with us!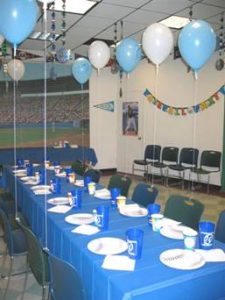 Our birthday parties are a hit with both boys and girls of all ages. Parents love them too! A unique and special way to treat your child like an All-Star and give him or her a day that will provide special memories for a lifetime.
We customize the decorations with your child's favorite team colors, sport, etc. We will plan the activities to suite your child's specific interest: dodgeball, kickball, soccer, lacrosse, batting cages, flag football, Nerf Wars and more.
If your kids have Nerf guns, bring those and we can set up targets and obstacles for a fun nerf gun war 🙂
We decorate, clean up, and provide staff members to interact and engage the kids for a completely non-stressful event for parents. So sit down on our comfy couch, read a book or watch TV and let us do all the work. All you do is bring the cake.
Don't forget…the perfect birthday present for your sports fan can be purchased in our Pro Shops. (if not in stock, we'll order it for you)
GRAND SLAM BIRTHDAY $250
up to 11 children * additional children are $10/each
includes the following:
2 hrs of facility time (incl party room- 3/4 time spent on activities)
you pick the activities either before or day of party
1 sheet pizza, drinks, paper products, decorations
1-2 staff members will be there to run entire party for you
we clean the mess when party is over
(note-for more than 12 kids, we will have a 2nd pizza and drinks)
Just bring the cake and we'll take care of everything else!
warning: kids will be sweaty, tired and ready for a nap when they leave!
INSTRUCTOR TRAINING OPTION
Add an Instructor for 1 hour and incorporate baseball or softball training into your party for an additional $50!
DEPOSIT REQUIRED FOR ALL PARTIES
A $100 non-refundable deposit due at time of reservation, balance can be paid on date of party. No refunds or credits can be issued. If you cancel the party within 2 weeks of your party date, you will be responsible for the entire cost as we have probably already turned down another party or group.
or complete the form on this page for more information or to reserve your party.
Effective 2/24/16: due to the extremely high cost of credit card processing online, we will no longer be able to take credit card payments online. However, you may still register online. Then simply mail a check to us or call 607-973-2226 and we will gladly take your credit card payment over the phone.  We are sorry for the inconvenience.  We will still accept credit/debit cards at the Sandlot Facility though.