Practice Makes Permanent
The area's premier indoor sports training facility  for over 10 years with over 16,000 sq feet.  Open to the public since 2007, no appointment needed for individuals. Great space for team practices too! Indoor batting cages with  Iron Mike pitching machines &  Backyard Batter Pro automated soft-toss machines, pitching mounds, year-round camps & clinics, professional instruction available, free coaches clinics, baseball & softball equipment in our Retail Shop, Hit-A-Thon FUNdraisers, birthday & team parties and more. A Gift Certificate to the Sandlot is the perfect gift for your "all-star."
——————————————————————————————————————–
Check out our Specials in our Retail Pro Shop!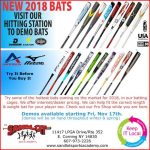 2018 DEMO BATS available
Come on in and Try It Before You Buy It 

"LIKE  US"  on  Facebook
LOGIN  or  Create an Account
NOTICE:  You may notice our current building is for sale but we are NOT closing.
We will be at our current location for this upcoming season then we will be moving
into a much larger facility next fall.   Exciting announcement coming soon!
OUR SERVICES
Indoor batting cages, pitching mounds, mini-field. Walk-in and pay only $15 with NO time restrictions! No reservations needed (except for mini-field). 30-day unlimited-use membership available anytime.
Camps, clinics and weekly programs for all age and ability levels. We keep camps small to ensure quality instruction. We do not hold "money maker" camps.
Birthday & Team Parties: You bring the cake and we take care of all the rest, including staff to run the party for you! Great for team parties too.
Team Practice Space for teams and groups at great rates.
Free Space for Your League Signups/Registrations or Team Meetings. Hold your league or team registrations at the Sandlot. We offer a free coaches clinic too if interested.
Professional Instruction available from numerous instructors who have played high levels of ball (All-Americans – Professional levels) Video Analysis during private instruction, gives players the opportunity to see themselves in action and correct weaknesses and adjust their technique accordingly.
College recruiting assistance by current Cincinnati Reds Assoc Scout.
Home schooled community: we can build a customized program for individuals or groups to meet your required physical educational goals.
SMALL BUSINESS RESOURCES:
SmartBizLoans.com 
Reputable, small business resources and SBA guaranteed. Recommended by Sandlot Sports Academy  & Backyard Batter Pro